Joined

May 15, 2019
Messages

4,776
Location
September 2021 Vinyl Spin Challenge Thread
Join us for the month, spin some records from your collection, discover new music, share stories and have fun.
The usual rules:
-This is not a competition.
-Interpret each theme as you wish. Be creative and stretch it to fit something in your collection as you need.
-Feel free to share a story related to or the reasoning behind your selection. We love reading those. But don't feel obliged to do so.
-Try not to spin the same record as someone else on the same day.
-Please don't post a selection ahead of time. If you're feeling antsy about a selection you might get scooped on, let's arbitrarily call 12am Eastern Daylight Time the cut-off (GMT -4).
-If you fall behind or start late, no worries – try to catch-up or skip some days if you have to. We all prefer that you participate on some days than none at all.
-Feel free to comment or discuss the selections of others. Encourage each other. Have fun!
Day 1 - "Girlfriend Is Better"
Stop making sense, stop making sense. Stop making sense, making sense.
"Stop Making Sense" (the album) was released 37 years ago in September 1984. Play a concert album.
Day 2 - "Road To Nowhere"
Well, we know where we're goin' but we don't know where we've been.
Play an album that references driving, the road and/or traveling.
Day 3 - "Burning Down The House"
Some things sure can sweep me off my feet.
Play an album that is "hot" at your house right now - an album that you've had on steady rotation lately.
Day 4 - "Wild Wild Life"
I'm wearing a fur pajamas. I ride a hot potato.
It's National Wildlife Day! Play an album featuring wildlife on the cover and/or songs about wildlife.
Day 5 - "Making Flippy Floppy"
Check it out. Still don't make no sense. Makin' flippy floppy.
Do you have some flexi discs? Take them out and play them. If not, play some other unusual record format from your collection. A 10"? An oddly shaped record? A record that references old computer floppy discs? A record with other unusual features? The theme is flexible. Literally.
Day 6 - "Found A Job"
If your work isn't what you love, then something isn't right.
It's labour day in Canada & USA. Play music that celebrates work in general or is thematic to the work you do.
Day 7 – "Blind"
Signs, signs are lost. Signs disappeared, turn invisible.
Play an album featuring eyes or songs about eyes.
Day 8 - "Sugar On My Tongue"
Is she gonna put sugar on my tongue? Is she gonna gimme, gimme, gimme some?
Is this song about sex or drugs? Or both? Play music that references sex or drugs, bonus imaginary points if both.
Day 9 - "Psycho killer, qu'est-ce que c'est?"
Réalisant mon espoir, je me lance vers la gloire, OK.
Play an album with French lyrics or by an artist from Quebec or France. Imaginary bonus brown noser points for a French album by a French-Canadian artist.
Day 10 - "This Must Be The Place (Naïve Melody)"
Home is where I want to be. Pick me up and turn me round.
Play something that makes you feel good to be home, dancing alone with a floor lamp (i.e. play something that makes you want to dance even if you're alone).
Day 11 - "Heaven. Heaven is a place. A place where nothing. Nothing ever happens."
There is a party, everyone is there. Everyone will leave at exactly the same time.
Ok, you've had enough. Play an album that will get any lingering guests to finally leave.
Day 12 - "Born Under Punches (The Heat Goes On)"
The Hand speaks, the Hand of a government man.
You're hosting Tyrion Lannister for Sunday dinner. Play something he'd like.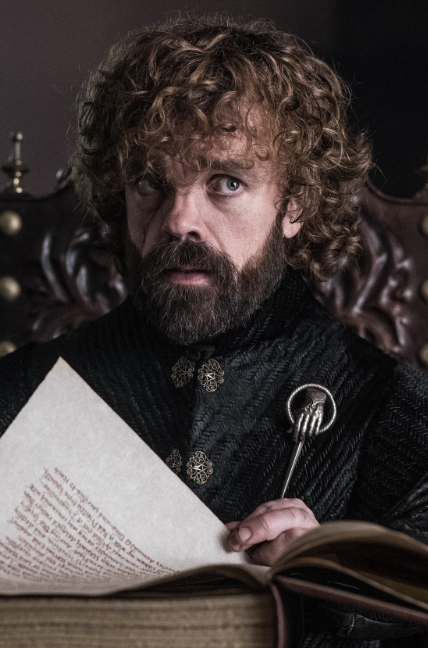 Lord Tyrion Lannister is the youngest child of Lord Tywin Lannister and younger brother of Cersei and Jaime Lannister. A dwarf, he uses his wit and intellect to overcome the prejudice he faces. He is the current Lord of Casterly Rock and Hand of the King to Brandon Stark. 1 Biography 1.1...
gameofthrones.fandom.com
Day 13 - "Mr. Jones"
Mr. Jones is back in town, it's his lucky day. Hold up your hands and shout.
Play an album that features a contribution by someone named Jones.
Day 14 - "Radio Head"
Transmitter! Oh! Picking up something good. Hey, radio head! The sound...of a brand-new world.
Play an album by a band that influenced Radiohead or by a band that influenced one of those bands. Or just play something by Radiohead. (
Radiohead - Wikipedia
)
Day 15 - "Genius Of Love"
And what do you consider fun? Fun, natural fun.
Play a side-project album.
Day 16 – "Happy Day"
Oh, happy day, happy day. I'll never be the same. Forever I am changed.
"Talking Heads: 77" was released 44 years ago today. Play a notable debut album.
Day 17 - "Life During Wartime"
This ain't no party, this ain't no disco, This ain't no fooling around.
To hell with that. It's Friday! Time for fooling around with that four on the floor disco beat!
Day 18 - "Swamp"
Now let me tell you a story. The Devil has a plan.
Play an album with an overarching story.
Day 19 - "Warning Sign"
Warning sign, warning sign, I see it but pay it no mind.
Play an album that contains foul language.
Day 20 - "Strange Overtones"
Your song still needs a chorus. I know you'll figure it out.
Play an album by an artist that was in a band and is going solo.
Day 21 – "Give Me Back My Name"
There's a word for it. And words don't mean a thing. There's name for it. And names make all the difference in the world. Some things can never be spoken. Some things cannot be pronounced.
Play an album with a cover that doesn't include the band name nor the album title.
Day 22 - Slippery People
What's the matter with him? (He's alright.) I'll see his face (the Lord won't mind.) How do you know? (He's alright.)
Play an album by an artist that covers their face with make-up, wears a costume and/or uses a disguise.
Day 23 - "I, Zimbra"
E glassala tuffm I Zimbra.
Play an album with lyrics that make no sense, that are inscrutable or that are difficult to interpret.
Day 24 - "Memories Can't Wait"
You look so disappointed. It's not what you hoped for, is it?
Play an album you were excited about but then disappointed you for some reason after you got it. Didn't live up to the hype? Damaged in shipping? Bad pressing?
Day 25 - "Once In A Lifetime"
Letting the days go by, water flowing underground.
Play an album/song that mentions a day of the week or references the passage of time.
Day 26 - "Television Man"
Television man made me what I am. People like to put the television down. But we are just good friends. (I'm a) television man.
Play an album with a song used on a TV show (either a theme song or tell us what show/scene it was used in).
Day 27 - "Cities"
Find a city. Find myself a city to live in.
Play an album that references a city you like. What do you like about it?
Day 28 – "Take Me To River"
Take me to the river and wash me down. Won't you cleanse my soul, put my feet on the ground.
Play something that relates to Green. A green record? A song that references the color green? Something by Al Green?
Day 29 - "And She Was"
Not touching the ground at all and she's up above the yard. The world was moving, she was right there with it and she was.
Play an album that references angels, the sky, heaven or the afterlife.
Day 30 - "Crosseyed and Painless"
They're back! To explain their experience. Isn't it weird? Looks too obscure to me.
Look back at the records you played this month. Play an album that you feel summarizes your selections. Or play something that reflects your September. One could also just play a Talking Heads record.
Optional: Make a Topsters2 collage of the records you played this months and share.


Last fm collage (3x3, 5x5, etc.) and album chart (top 40, 100, etc.) generator for music and movie aficionados.
www.neverendingchartrendering.org
***EDIT: 2021-09-07 - I can no longer in good conscience recommend the use of Topsters2 due the beliefs of its owner and the use of this platform to promote them***
Last edited: